Regular price
$149.90
Sale price
$74.95
Unit price
per
Sale
Sold out
✈︎ Fast Shipping
✩100% Money-Back Guarantee
Meet the Ruggie Alarm Clock!
This is not just your typical alarm clock like the ones you keep at home. Nothing will make you get out of bed any more than this Ruggie Alarm Clock. This revolutionary clock will not only get you out of bed on time (you'll literally have to get up!) Hurry and get yours now before stocks run out!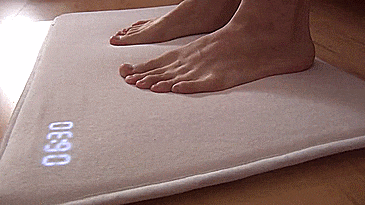 FEATURES AND BENEFITS

Touch Activated Countdown - Rise and Shine! Stand for 3 to 30 seconds until the countdown is over to stop its alarm. It will restart if you go back to bed!
Powerful Built-In Speakers - You'll never oversleep again, these speakers as loud as a blender going off! Ranging from 90-120 decibels. (It's SUPER LOUD!)
Incredible Comfort - Enjoy early rising by stepping on an incredibly soft, slow rebounding memory foam padding. It feels as soft as a cloud.
Design that Forms Great Habits - Your new automatic wake up response will be getting out of bed instead of reaching for the snooze! And Ruggie can also deliver a custom message to get you in a positive state every morning!
After standing for 5 seconds, the alarm will automatically turn off.
Requires 3 AAA batteries. (not included in the package)
Minimalist Design – Doubles as a rug, you can clear room space and it looks great in any room despite its function.

PACKAGE CONTENTS
Not Satisfied with Our Product?
If you're not satisfied with our product, we'll take it back if you place a return or replacement request within  14 days after the date of delivery. We are confident in our products & ensure you that shopping with Horizzoncare is 100% risk-free.
-----------------------------------------------------------

Why Choose Us? 
Horizzoncare

 

strongly believes in its product & wants our customers to experience delightful products with

 

superior quality & best prices.
We offer a 

safe & secure payment gateway

 

via G Pay & several other major debit/credit cards.
View full details
A Gentle and Effective Cleaning Solution
Our shoe cleaning brush is designed to gently remove dirt, dust, and other debris from the surface of your shoes, without damaging the material. The soft, fine bristles effectively clean all types of shoes, including leather, suede, canvas, and mesh.
Easy to Use and Maneuver
Our shoe cleaning brush features an ergonomic design that makes it easy to grip and maneuver. This allows you to clean your shoes quickly and effectively, without having to strain your hands or wrists.
Buy Now
Perfect for Shoe Care Kits
Our shoe cleaning brush is a must-have for anyone who wants to keep their shoes looking great. It's the perfect addition to any shoe care kit and makes a great gift for shoe lovers.
FAQs
What type of shoes is this brush suitable for?

Our shoe cleaning brush is suitable for all types of shoes, including leather, suede, canvas, and mesh.
Can I use this brush to clean other items besides shoes?

While our shoe cleaning brush is designed specifically for cleaning shoes, you may be able to use it to clean other small items, such as handbags or belts.
Is this brush suitable for sensitive materials?

Yes, our shoe cleaning brush is gentle enough to use on sensitive materials, such as suede or nubuck.
Can I use this brush with any type of cleaning solution?

Our shoe cleaning brush is compatible with most types of cleaning solutions. However, we recommend using a solution that is specifically designed for your type of shoe material for best results.